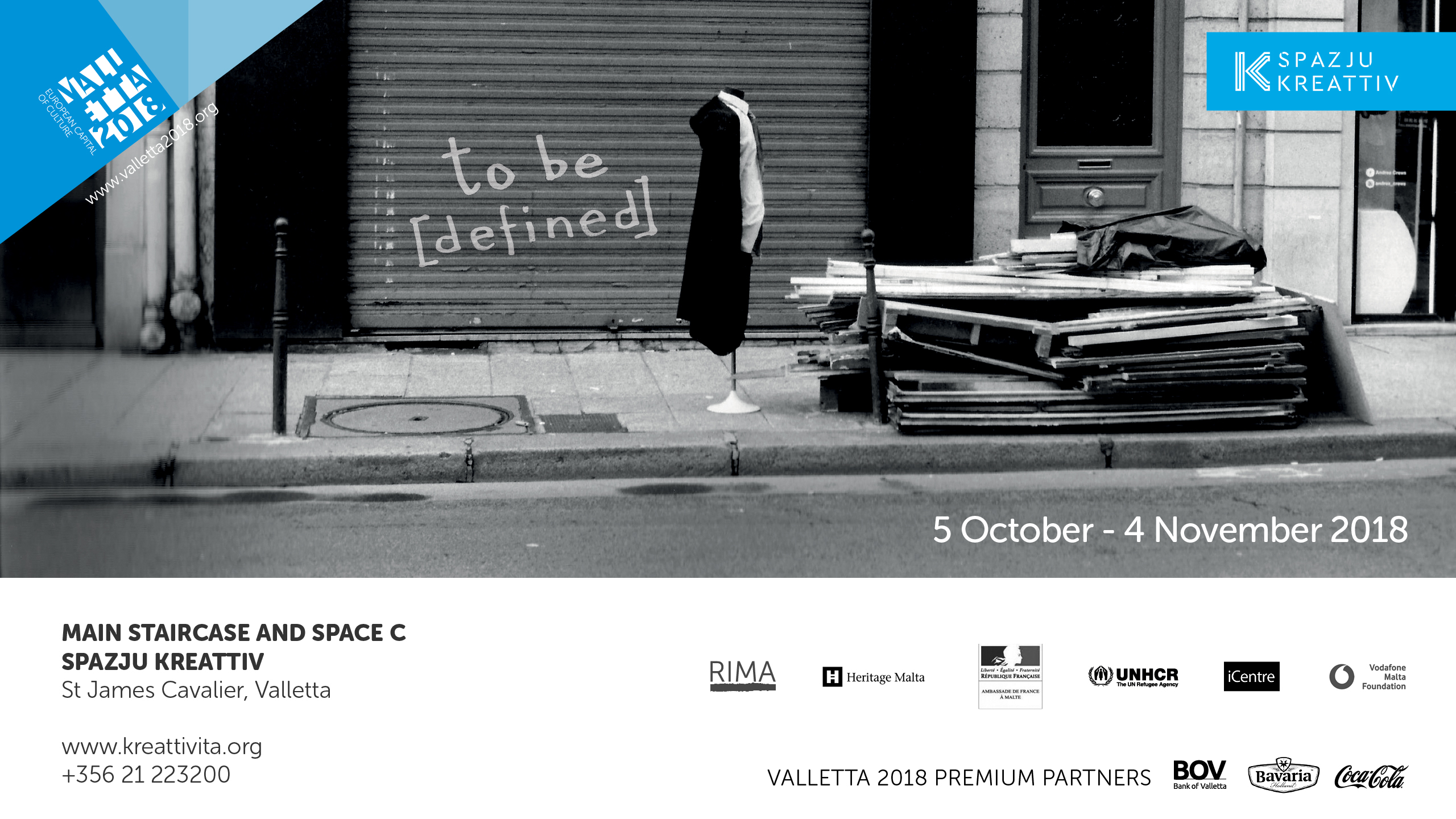 To be [defined] is an exhibition organised by Rima Project. Its articulates two main concepts about migration and exile: definition and construction on one side, and de-construction and resistance on the other.
This exhibition has been developed by Virginia Monteforte (curator), Kristina Borg (exhibition designer), Alexandra Galitzine-Loumpet (cultural advisor) and Sarah Mallia. It features as part of the cultural programme of Valletta 2018, European Capital of Culture (Exile and Conflict strand, coordinated by Elise Billiard Pisani) and it is part of Spazju Kreattiv Programme.

Artists: Moira Agius (Malta), Mario Badagliacca (Italy), Gilbert Calleja (Malta), Glen Calleja (Malta), Katel Delia (France/Malta), Mirna Danijan (Turkey), Emmanuel Guillaud (France), Alberto Favaro (Italy/Malta), André Désiré Loutsono (Republic of Congo), Immanuel Mifsud (Malta), Nadja Mifsud (Malta), M. and Rubina Mohamed (Libya), Malik Nejmi (Morocco/France), Aurélie Percevault (France), Guy Woueté (Republic of Cameroon/Belgium), Hassan Yassin (Sudan).
The exhibition is also supported by the French Embassy, Vodafone Foundation, iCentre, UNHCR, Heritage Malta and Ilab photo.
Other events
Artists Tour on Saturday, 6 October 2018 at 7:30pm
Venue: Main Staircase and Space C, Spazju Kreattiv
Price: Free
OPENING:
Friday, 5 October, 7.30 pm
Location:
Spazju Kreattiv and Space C,
Castille Place, Valletta, VLT 1060 Malta